FLY-FISHING THE WESTERN SPRING CREEKS AND TAIL-WATERS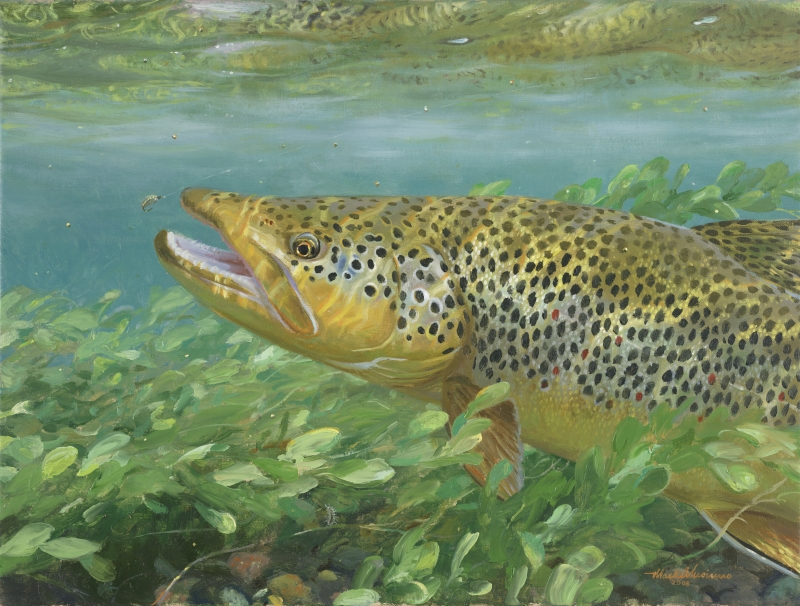 A Nymphing Manual for the Fisherman Who Wants to Improve
John Mingo
Photography: Fly-tying: Artwork: Foreword by
Suzanne Mingo Lee Kinsey Mark Susinno Robert Berls
The original book by John Mingo and his colleagues focused solely on the famous Montana spring creeks – Armstrong's, Nelson's, and DePuy's. Its title was Fly-Fishing the Montana Spring Creeks – The Rainbows of Paradise, 2009, Infinity Publishing.
"Brilliant, innovative, iconoclastic" raved Nick Lyons, author of Spring Creek, about the predecessor to this new book. Lyons is the revered author of books and magazine articles on the finer points of American fly-fishing.
But the 2009 book was written under the assumption that the reader was already an expert fly fisherman who was accurate in his casting and understood that an inaccurate cast could do damage – reducing the chances that a particular feeding fish would ever take the artificial fly being presented.
Mingo spent much of the last decade developing a way for the novice-to-intermediate fly-fisherman to understand his shortcomings and work to improve his scores. The new book, published as an Amazon™ e-book (for Kindle™ readers or for any other mobile device or computer) as well as a full-color paperback, lays out what should be the objectives of the new fisherman, even fishermen who have been using guides during their many years of annual visits to the Western spring creeks and tail-waters. What the guides teach, and what the expensive fly-fishing schools teach, is not HOW to FISH, let alone how to LEARN how to fish. And without setting the proper objectives for the novice or intermediate fly-fisherman, there is little hope that he or she will be able to markedly improve, without decades more of experience.
The new book introduces the concepts of what is a Money-Cast and what is an Anti-Money Cast. The objective is simple – make way more Money Casts per hour than you have in the past, while making far fewer Anti-Money Casts than you have been making. However, as in any pursuit where you strive for improvement, it is the details that matter. And, as in all these other pursuits, you can't perform well without LOTS more practice than you have been devoting to your sport of Fly-Fishing. The new book is therefore detailed, but hopefully accessible and rewarding if you stick with it. Whether you are a Novice or an Expert, we think you will find many new things to learn. Below we provide:
A Link to purchase the e-book from Amazon for $14.95. You will need to download the free Kindle App if you don't own a Kindle reader. The e-book is in full color on non-Kindle devices.
https://www.amazon.com/Fly-Fishing-Western-Spring-Creeks-Tail-Waters-ebook/dp/B07JYG7QVP/ref=sr_1_1?ie=UTF8&qid=1541611708&sr=8-1&keywords=John+Mingo%2C+Fly-Fishing+the+Western+spring+creeks+and+tail-waters
If you have only a black-and-white Kindle reader, you can download the fly-tying photos in full color here. The Kinsey-Mingo PDF
The new book in paperback is in full color and uses an easy-to-carry format of 6" x 9" for reading anywhere. The full color plates in the paperback are what drives the price up to $39.95, but we think you will like it a lot. https://www.amazon.com/Fly-Fishing-Western-Spring-Creeks-Tail-Waters/dp/1729430023/ref=tmm_pap_swatch_0?_encoding=UTF8&qid=1541611708&sr=8-1
The reader who has looked at other books on Nymphing tactics will know that this book is NOT about so-called "Contact Nymphing" methods, including Czech or European nymphing. Rather it is about Suspension nymphing methods in which something like a Strike Indicator holds the fly at the depth at which the trout are actually feeding right now. But our methods are more complex and much more rewarding than the typical "dry plus dropper" methods used for fishing to elevated trout that are feeding on nymphs. For Contact nymphing methods we highly recommend George Daniel's two books on the subject: 1) Dynamic Nymphing, Stackpole Books, December 2011; and 2) Nymph Fishing: New Angles, Tactics, and Techniques, Stackpole Books, July 2018. In the newer book, Daniel recognizes that, for some kinds of waters (e.g., spring creeks or tail waters), the Suspension methods may be better. It is also the case that Daniel has extensive expertise in competitive fly fishing. The rules of this sport typically do NOT permit Suspension methods, perhaps because such methods are too easy to learn relative to the complexities of Contact methods. Our book focuses narrowly on Suspension methods because we have been so successful, as have many others, with the use of strike-indicators. Our new book focuses on the things that can be improved upon, rather than using the usual indicators in the usual way.
Below are the backgrounds and links for the 5 members of the original team. Bob Berls did not make it through the new decade, and we miss him every time we fish a Western creek or river. And, in case it is not obvious, Berls' contributions to the new book are still there, and still apply to all those "difficult" Eastern or Mid-Western streams and rivers that might be your own home waters. The famous American guide, fly-tyer, and photographer, Al Troth, passed away prior to the publication date of the previous book, and his findings too, are sprinkled through-out both the old and the new book. Finally, a new contributor is Pete Cardinal, the Dean of the Missouri (on its section between Holter Dam and Cascade, centering on the fly-fishing town of Craig, Montana). Pete's flies and techniques were devised in over 35 years of guiding on the Mo, and our new book is the first one to incorporate some of these findings.
Brief Biographies of the Team.
Suzanne Mingo. Suzanne holds a B.A. in history from Albertus Magnus College and an M.A. in education from Bridgeport University. She has taken graduate level courses in photography, and taught photography to middle-school students in Bethesda, Maryland. Over the last 35 years she has pursued her specialty of large-format fine-art photography. While the photos in Rainbows of Paradise were taken mostly with 35mm Nikon™ digital equipment, she spends most of her time with medium format Hasselblad™ and large format Linhof™ cameras. Her darkroom contains equipment by Beseler and LPL, and enlarging lenses by Schneider.
Suzanne is an expert in the Ansel Adams Zone System and has studied with John Sexton at his annual workshop in Snowmass at the Anderson Ranch, and at his studio in Carmel. She has had several shows at the well-regarded Danforth Gallery in Livingston. Her photos have appeared in The Washington Post, Fly Fisherman magazine, The Bulletin of the Angler's Club of New York, and The National Parks Fishing Guide by Robert Gartner. You can see more of her work at www.RainbowsPhotography.com.
Lee Kinsey. Lee is a 4th generation Montanan, raised in Big Timber, who essentially grew up by fly-fishing the Yelllowstone and the Boulder rivers. He attended college at the Montana School of Mines and, fortunately for us, did not take up mining after an internship in Colorado fell through. He learned to tie wonderful flies under the tutelage of Paul Redfern, owner of the Fish On! Shop in Butte. Early on, Lee was fortunate enough to have Al Troth inspect his flies and offer suggestions. A small shadowbox of Al's flies were loaned to Lee by Paul, and Lee practiced until his own flies looked just like Al's.
Lee took up guiding and has been at it ever since, some 25 years in total. His first efforts at guiding on the spring creeks were "trial by fire", as he puts it. Some 1000 days of spring creek guiding later (which is a hell of a lot tougher than just spring creek fishing), he is more interested in tying new flies for the creeks rather than catching trout on what he knows will work.
Lee lives in Livingston with his wife Abby and daughter Libby. He often thanks Paul Redfern for teaching him how to tie and introducing him to Paul's niece, Abby, who is now Abby Kinsey. Lee owns the outfitting service Secluded Water and has some of the finest private access water in this part of the country. If you want to get in on his flies or these waters, do it soon. Lee can be reached at 406-220-3767 or via lee@secludedwaters.com. His website is www.secludedwaters.com.
Mark Susinno. Mark holds a Bachelor of Fine Arts in painting from Pratt Institute. Working as a fabricator of bullet-proof doors in 1985, he entered and won the Maryland Trout Stamp contest and decided to pursue his art full time. Since then his work in oils and acrylics, coupled with his expertise in fly-fishing, has led him to many honors, including designing 22 state fishing stamps and covers/illustrations in all the major fishing journals, including Gray's Sporting Journal, Sporting Classics, Field & Stream, Sports Afield, Fly Fisherman, and many others. His works have graced Lefty Kreh's Advanced Fly Fishing Techniques and Ultimate Guide to Fly Fishing, and Alan Robinson's Ode to Bass & Trout. Since 1987, Mark's limited edition prints have been published by Wild Wings, LLC.
Mark's fly-fishing interests have led him to Alaska, Labrador, Scotland, and many other North American sites, including to coastal waters for tarpon, bonefish, snook, stripers, blues, and dolphins. He especially loves to fish for smallmouth near his home in Harrisburg, Pennsylvania. Mark is a member of the Society of Animal Artists and American Mensa. The interested reader can see more of his work, including the original oil painting used for this book's cover art, by visiting www.natureartists.com/susinnom.htm. Mark's e-mail is mantons@prodigy.net
Pete Cardinal. Pete has a BS from Michigan State University and an MS from Montana State. He started out as a State of Montana fisheries biologist in the early 1980's on the Missouri River Below Holter Dam. He quickly decided that the tail-water stretch of the Mo was the very best fishery in the State – the State with the very best fly-fishing. So, he founded Missouri River Angler which was renamed Pete Cardinal Outfitters, and the rest is history. Pete still receives a higher daily rate than any other guide out of Craig, MT, and for good reason. With all my experience, and with me "guiding" a great caster, a typical day for me on the Mo might result in one-half the number of hook-ups and landings as when I go with Pete. Pete was featured in the book Castwork, and several fly-fishing magazine articles have been written about him and the Mo. His findings on river hydraulics (in the context of finding rising trout) are critical to great fishing, and the notion of The Zen of When (how to look at the white foam bubbles to predict where exactly the Pod will surface again) are hinted at in this book. There is still lots of stuff that will make it into print only when Pete retires (and I'm pushing up daisies). If you want to get some days with Pete, think a year ahead of time. He can be reached at 406 235-9055, or 406 788-7894, www.petecardinaloutfitters.com and petecardinal4@gmail.com. He is a busy guy, to say the least, so please call or e-mail only between 8 and 9am, Mountain time, or before 9PM in the evening. Please note that Pete is not responsible for any remaining errors in Mingo's write-up of his techniques. Nor should you assume that reading a book like this will in any way substitute for a day of Pete's teaching on the river.
Robert Berls. Bob held degrees from Wesleyan and Yale, and was retired from Federal service in Washington, D.C. He fished for trout in 13 states, including Alaska, and in England and New Zealand. Bob fished for the huge sea-run brown trout in Tierra del Fuego and for Atlantic Salmon in Canada and Russia. He bone-fished in Belize, Florida, and the Bahamas. Bob was the long-time editor of the Bulletin of the Anglers' Club of New York and wrote the "Letter from America" for the FlyFishers' Journal of the Flyfishers' Club of London. Bob fished with notables such as Jacques Cousteau and Tom Brokaw. He could hold his own, and did, in any discussion of Atlantic Salmon and American fly-fishing history. I miss him every day I am on the water.
John Mingo. John started fly-fishing in 1966 on a small trout stream in Rhode Island. Since then he has held fishing licenses in more than 30 of the states, including Alaska and most of the states with great spring creeks or tail waters. He has fished for trout in England, Austria, New Zealand, Patagonia, and Tierra del Fuego, and for bonefish in the Bahamas and the Yucatan.
John's day job was as an expert on the regulation of risk in banking. He has been a Senior Advisor to the Federal Reserve Board, and a Deputy Assistant Secretary of the Treasury. He holds a B.A. in economics from Yale, and a Ph.D., also in economics, from Brown. Between retiring from the banking industry and his new stint as fully-retired, John was the Founder and Chief Designer of Baetis Audio, a firm that manufactures some of the world's finest digital music servers, www.baetisaudio.com.
John can be reached at baetismingo@gmail.com. We welcome questions and suggestions.